Beskrivelse

Qu økosystem
Qu gir mye mer enn bare en mikser. Qu er et helt økosystem med Remote AudioRacks som gjør at I/O kan plasseres der det trengs, ME Personal Mixers utvider monitormikser og muliggjør enkel, tidsbesparende lokal kontroll, Qu Apps for komplett fjernoppsett og trådløs miksing på scenen eller hvor som helst på venuen, ProFactory Mic forhåndsinnstiller for å øke hastigheten på forberedelsene og sikre den beste lyden, pluss USB-opptak og DAW-integrasjon for kraftig optimalisering av arbeidsflyten fra ett sted.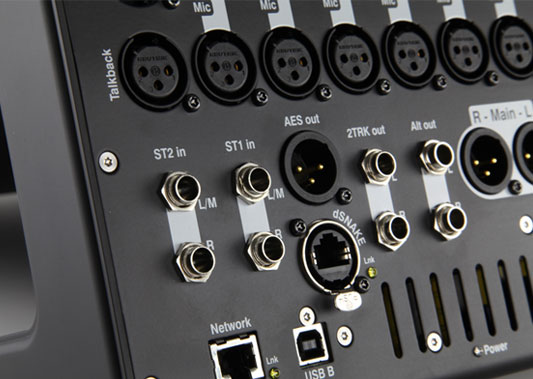 AnalogiQTM forforsterkere
Qu-32 har trettito AnalogiQ digitalt kontrollerte forforsterkere med avansert nullkryssingsdeteksjon og en padløs 1dB-trinns forsterkningstrinn, som har vært nært knyttet til DSP for optimal forsterkningsnøyaktighet og transparent lyd. Det analoge signalet fanges opp av høy klasse 24bit analog til digitale omformere med lav forsinkelse, som er tilpasset 24bit digital til analoge omformere for å levere den nødvendige kvaliteten på utgangene. AnalogiQ-forforsterkerdesignet har blitt raffinert for å tilby suveren transparent lyd, minimal forvrengning og et ultralavt støynivå med en varm, musikalsk lyd som kan mangle i noen digitale konsoller.
Mixing Experience
Å ha massiv prosessorkraft og avansert funksjonalitet teller ingenting hvis du ikke får tilgang til kontrollene du trenger i løpet av et hjerteslag. 800 × 480, True Color Touchscreen og den dedikerte roterende koderen danner hjertet til Qu-32s grensesnitt, og gir superrask tilgang til alle innstillinger og parametere. Dedikerte taster og skjermfaner guider deg raskt til måler- og RTA-visninger, FX-racks, kanalbehandling, USB-lydkontroll, scener, oppsettmenyer og mye mer. SuperStrip supplerer berøringsskjermen – et sett med fysiske kontroller med en funksjon for øyeblikkelig tilgang til forsterkning, HPF, 4-bånds PEQ, gate, kompressor, GEQ og pan. Skjermoversikten følger også kontrollen som blir brukt.
One Channel / One Fader
Qu-32 har en fader per mono-inngangskanal og færre faderlag for enklere, raskere arbeidsflyt. Noen digitale miksere tilbyr ikke en fader per fysisk inngang, noe som betyr at du må få tilgang til et ekstra faderlag for å kontrollere disse kanalene. Dette kan være forvirrende og tidkrevende. Fordi hver mikrofoninngang presenteres på sin egen fader for rask og enkel kontroll, gjør dette Qu-32 til den perfekte mikseren for første gangs konvertering fra analog til digital og de som ikke er komfortable med å jobbe med flere lag med fadere.
Total Recall
Ekte digital miksing handler om å kunne lagre og gjenkalle scener (øyeblikksbilder) ved å trykke på en knapp. Qu kan lagre opptil 100 fulle scener for tilbakekalling, og kanaler eller mikser kan låses fra å bli overskrevet. Qu-32 har 33 motoriserte ALPS-fadere – 32 gir øyeblikkelig tilgang til alle inngangskanaler og mastere over 2 lag, og en dedikert masterfader følger dynamisk utvalg. Et tredje brukerdefinert tilpasset lag er tilgjengelig for ad-hoc-stripeoppsett, der enhver kombinasjon av innganger, FX-sendinger, FX-retur, DCA og Mix-master kan tildeles.
Rack FX
Qu-32s dynamikk og FX-algoritmer er hentet fra de som brukes i Allen & Heaths pro-turnékonsoller. Noen av verdens mest respekterte lydteknikere har valgt å bruke RackFX på tur i stedet for toppmoderne plugin-moduler og eksterne FX-enheter. Qu-32 kan skryte av 4 stereo RackFX-motorer, med kjærlig utformede emuleringer av legendariske klassiske reverb, gated reverb, delayer, modulatorer, flanger og mer. FX returneres til miksen på dedikerte returkanaler, så du binder opp ikke mono- og stereoinngangskanalene dine. Hver Stereo FX Return har en dedikert 4-bånds PEQ.
Flere mikser, mer fleksibilitet
GRUPPER
Qu-32 har fire stereogrupper som kan brukes som undergrupper til hoved-LR-miksen for gruppenivå og prosessering, for eksempel for å komprimere et helt trommesett, eller for å temme flere lavalier-mikrofoner med en enkelt grafisk EQ. Grupper kan også byttes til miksmodus for å gi ekstra utganger for monitormikser.
MATRISEN
Qu-32 legger til ytterligere 2 stereo Matrix-utganger utstyrt med full prosessering til konsollens omfattende I/O. En matrise er en 'mikser i en mikser', matet fra en hvilken som helst kombinasjon av gruppe 1-4, miks 1-10 og hoved-LR. Den kan brukes til mating til kringkasting, en opptaksmiks eller duplisere hovedutgangene for delay stacks, fyll- eller sonehøyttalere der uavhengig GEQ og delay brukes.
Qu-Drive
Qu-32 har en integrert multitrack USB-opptaker, som gir 18 kanaler med 48 kHz, 24-biters opptak og avspilling rett til/fra USB-nøkkelen eller harddisken. Det har aldri vært så enkelt å ta opptak av flere spor av showene dine. Et valgbart stereopar kan spilles inn ved siden av de 16 monokanalene, og multitrack-lyd kan spilles av til de 16 monoinngangene pluss ST1. På toppen av dette gir Qu-Drive også stereoopptak patchbart fra alle par Mix-utganger, Main LR (pre, post eller summert til mono) eller til og med PAFL-bussen, med 2-spors stereoavspilling til ST3.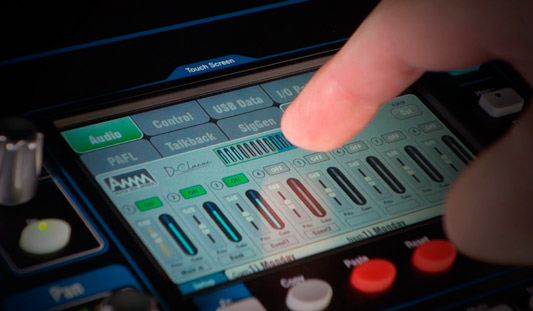 Automatisk mikrofonmikser (AMM)
AMM er viktig i applikasjoner som konferanser, møter og paneldiskusjoner der et antall mikrofoner er åpne samtidig. Den automatiske mikrofonmikseren reduserer bakgrunnsstøy og minimerer risikoen for feedback, og hjelper teknikeren til å administrere nivåene på flere mikrofoninnganger, slik at hver talers bidrag blir hørt tydelig. D-Classic dynamisk gaindelingsalgoritme er inspirert av industristandard automiksere. Opptil 16 mikrofonkilder kan mikses samtidig, hvor hver kanal har en prioritetsinnstilling som bestemmer 'vekten' i den totale systemforsterkningen.
Mac OS og Windows DAW Integration
Qu-32s innebygde lydkort streamer opptil 32 valgbare spor til din Mac eller PC, og retur fra datamaskinen kan enkelt tilordnes til inngangskanalene. Grensesnittet er kompatibelt på Mac OS X, noe som gjør det virkelig plug-in-play og vil bli gjenkjent med en gang av alle DAW-støtter Core Audio, inkludert Logic, Cubase, Reaper og Pro Tools. En ASIOTM- og WDM-kompatibel driver er tilgjengelig for Windows-datamaskiner. Standard MIDI-kontroll er tunnelert over USB- og nettverkstilkoblinger, dette kan rutes til fadere hos din favoritt DAW ved hjelp av A&H MIDI Control-appen som gir enkel oppsett og emulering av HUI- eller Mackie Control-protokoller på Mac OS X og Windows-systemer.
Qu-apper for bedre trådløs kontroll
Legg til Qu-Pad-appen for iPad til Qu-32, så er du i stand til å justere EQ og mikse monitorer på scenen, vandre rundt i lokalet mens du justerer PA, og mikse showet fra hjertet av publikum. Qu-Pad kobles til mikseren via Wi-Fi og gir øyeblikkelig tilgang til alle parametere og innstillinger for live miksing.
Qu-You lar opptil syv artister kontrollere sine egne monitormikser ved hjelp av hvilken som helst iOS- eller Android-enhet, og frigjør lydmannen til å fokusere på miksing for publikum.
Qu-Control er en tilpassbar iOS-app som gir et enkelt grensesnitt for ikke-tekniske brukere for å kontrollere de essensielle parametrene til Qu-miksere når teknisk personell ikke er i nærheten.
Apper krever tilkobling av en Wi-Fi-ruter eller tilgangspunkt til mikserens nettverksport.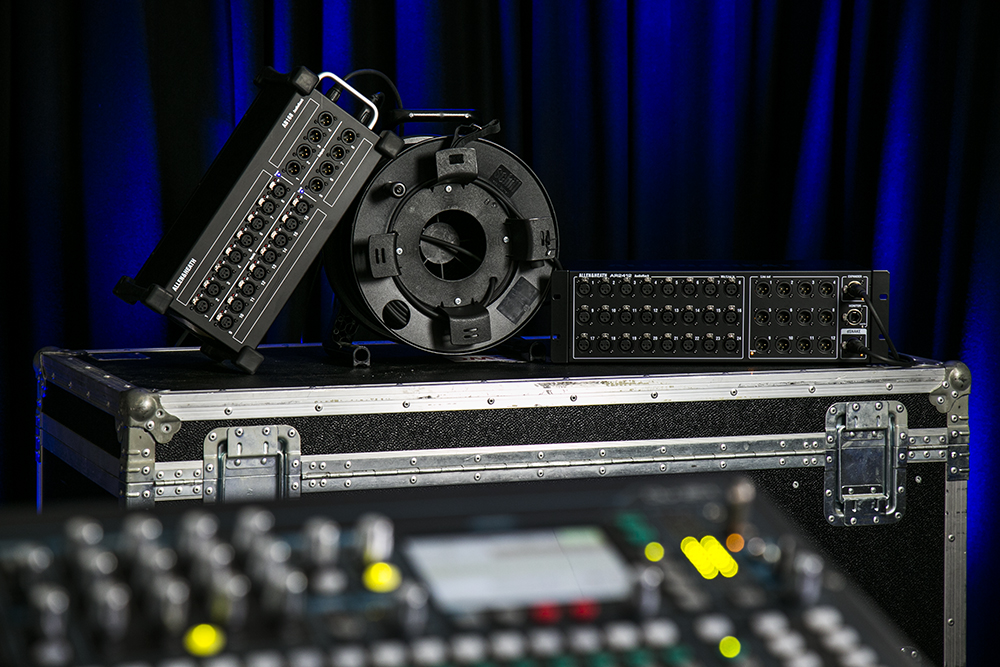 dSNAKE ™ eksterne audiorack
Qu-32 er en selvstendig mikser, så hvis du allerede har analoge kabler, er du klar. Hvis du tenker på å handle en Cat5 digital snake, har Qu-32s innebygde dSNAKE ™ -port  gjort deg fremtidssikret, slik at du kan koble til en ekstern AB168, AR2412 eller AR84 Stagebox. dSNAKE ™ er vår proprietære nettverksløsning, og har en forsinkelse på bare 105us over kabelløp på opptil 120m / 390 '. Så hvis du mikser FoH, kan du plassere I/O på scenen og kjøre en enkelt Cat5-kabel tilbake til Qu-32 i mikseposisjonen
ME Personal Mixing System
Qu-32 er fullt kompatibel med vårt ME Personal Mixing System. ME-1 utvider tilgjengelige monitormikser og gir hver utøver skreddersydd kontroll over sin egen miks, slik at lydmannen kan fokusere på publikumsopplevelsen. Et hvilket som helst antall ME-1 personlige miksere kan lenkes fra dSNAKE ™ -porten (eller fra en AR2412- eller AB168 Stagebox som er koblet til dSNAKE ™ -porten).
ARMed to the Hilt
Qu-32 er utstyrt med 5 ARM-kjerneprosessorer med høy effektivitet. Mellom dem gir ARM-kjernene toppmoderne prosessering, og arbeider parallelt for å levere omfattende kontroll, øyeblikkelig drift og lynrask respons, med dedikerte kjerner som kjører berøringsskjermen og overflaten, USB-streaming, Qu-Drive flerkanals innspilling / avspilling, Ethernet-kontroll og fader-automatisering. Mixerens DSP-farm utnytter neste generasjon dual-core DSPer, og gir 10 DSP-kjerner, hvorav 8 er dedikert til kanal- og mikseprosessering alene. Qu-32s DSP-arkitektur bruker varierte bitdybder, skreddersydd for spesifikke algoritmer, med 48 bits på kritiske EQ-funksjoner og en 56-bit akkumulator på miksebussen der den virkelig teller, slik at alle nyanser av lyden slipper gjennom i den endelige miksen .
Egenskaper
32 mono mikrofon- / linjeinnganger (TRS + XLR)
Tilbakekallbare AnaLOGIQTM Preamps
3 stereoinnganger (TRS)
24 miksutganger (XLR)
4 stereogrupper (miksmodus kan velges)
Opptil 11 monitormikser (4 mono + 7 stereo)
4 FX-motorer
4 dedikerte FX sends/retur
4 Mute-grupper
4 DCA-grupper
AES Digital Out
32 × 30 USB lydkort
dSNAKETM ekstern lydport
33 motoriserte fadere
7″ berøringsskjerm
10 softknapper
Trim, polaritet, HPF, gate, innsats, 4-bånds PEQ, kompressor, delay på alle innganger
Insert, 4-bånds PEQ, 1/3 oktav GEQ, kompressor, delay på alle utganger
Automatisk mikrofonmikser
Channel Ducker på alle innganger
ProFactory Mic forhåndsinnstillinger
RackFX-bibliotek
Innebygd signalgenerator
RTA med Peak Band-indikasjon
Spektrogram for å hjelpe til med eliminering av feedback og romakustikk
Qu-Drive Direct Multitrack innspilling / avspilling på USB-disk
DAW MIDI-kontroll
Qu-Pad iPad-app
Qu-You iPhone / Android personlig monitorapp
Qu-Control tilpassbar iOS-app for enkel trådløs kontroll
Kompatibel med ME Personal Mixing System
Kontroller i metall med høy kontrast og matcher premium GLD Chrome-serien