Beskrivelse
6x DSP + 2x FPGA
The FX Processing Beast
The new Orion Studio brings our recently pioneered Synergy Core FX processing platform to its next stage of evolution. With two proprietary Field Programmable Gate Aray (FPGA) chips and a whopping six ARM-based DSP processors on board, the sheer computing power contained in this interface is astounding! Leave CPU upgrades aside and let Synergy Core do the number-crunching.
6x DSP + 2x FPGA chips let the Orion Studio Synergy Core handle up to 128 effects instances simultaneously in real time with all processing done entirely inside the interface.
Synergy Core FX free up CPU to improve system stability, letting you reduce buffer size to record & monitor with sub-millisecond latency
2x FPGA units handle all audio mixing, dynamics processing, equalization and reverb with effects modeling legendary studio gear
6x ARM-based DSPs bring a wider variety of creative effects to an efficient, low-latency platform
No latency stacking when chaining multiple effects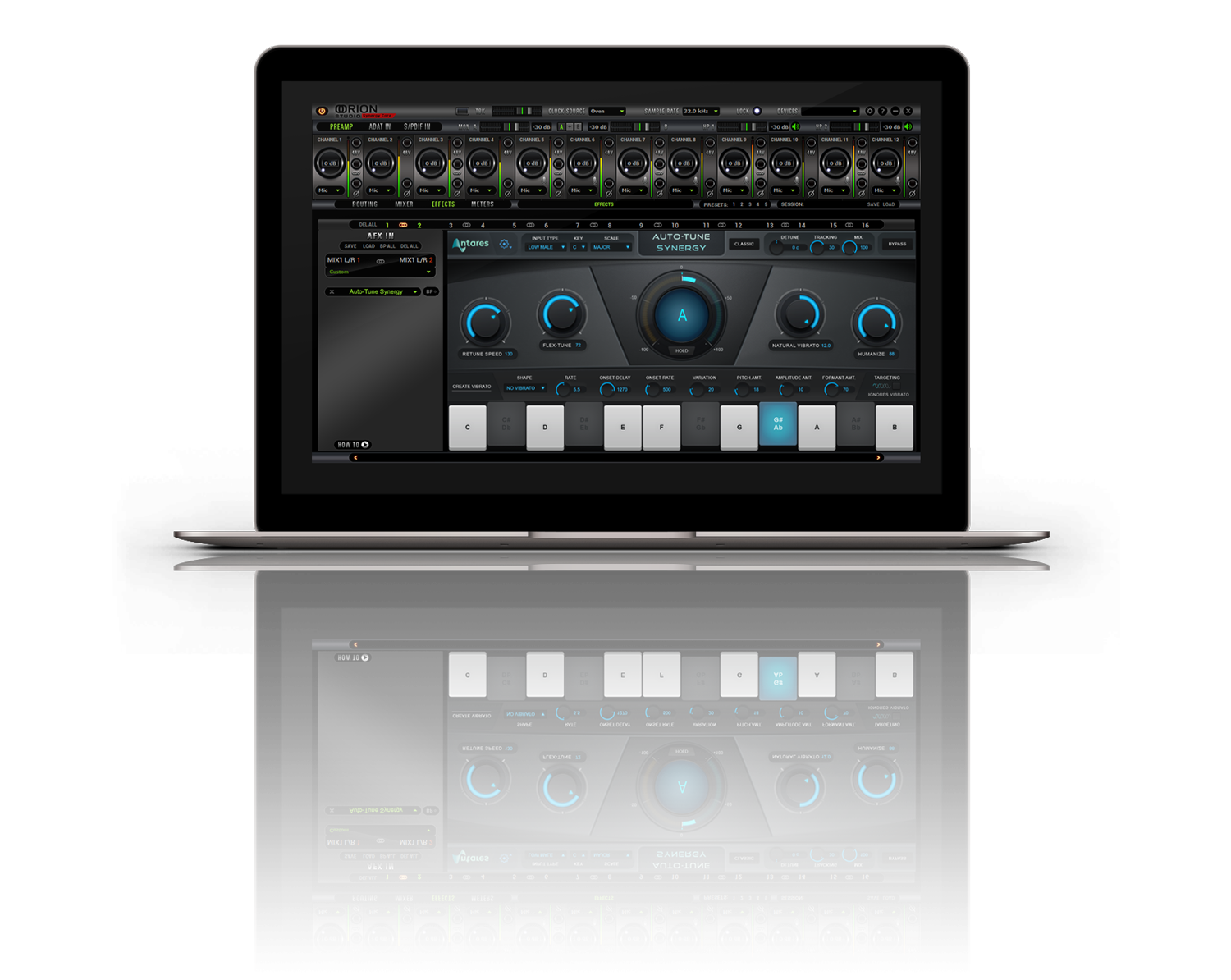 REAL-TIME LIVE MONITORING
Auto-Tune Synergy
Built from the ground-up for the Synergy Core platform, Auto-Tune Synergy adds live pitch correction to the Antelope Audio experience.
Industry-leading pitch correction anytime you need it – live, during recording, and at mixdown
Fully adjustable Retune Speed, Flex-Tune, and Humanize parameters with Auto-Key automatic key and scale detection
Real-time, low latency performance with the Edge Go modeling microphone and any Antelope Audio Synergy Core interface
'Classic' mode pays homage to the legendary "Auto-Tune 5 sound" heard on countless hit records


EXPANDABLE FX LIBRARY
51 Synergy Core FX Included
Adding further value to your investment, the Оrion Studio Synergy Core includes a compelling library of 51 real-time studio effects, meticulously modelled after their hardware originals. It's all happening inside your audio interface with the lowest latency possible thanks to FPGA's massive parallel computing capabilities, DSP processing, and fast Thunderbolt™ connectivity. The library can be expanded to include any effects you choose from our web store.
Thunderbolt 3 Certified
& USB Compatible
Thunderbolt 3 is the fastest, most versatile data connection available now. Orion Studio Synergy Core underwent a rigorious certification process to ensure operating system compatibility and stability. Not up to speed with Thunderbolt 3? Worry not, the interface is backwards-compatible with Thunderbolt 2, and we also left the USB 2.0 port intact – it's right where you'd expect it to be. This way, the Orion Studio Synergy Core works with any DAW, on any modern Windows or macOS computer.
FULL SPEED AHEAD
Forget Latency
Record and monitor with maxed-out effects chains at high sample rates and low buffer sizes without taxing your CPU! You can enjoy Latency-Free Direct Monitoring over 4 independent internal mixers with 32 assignable inputs and stereo outputs.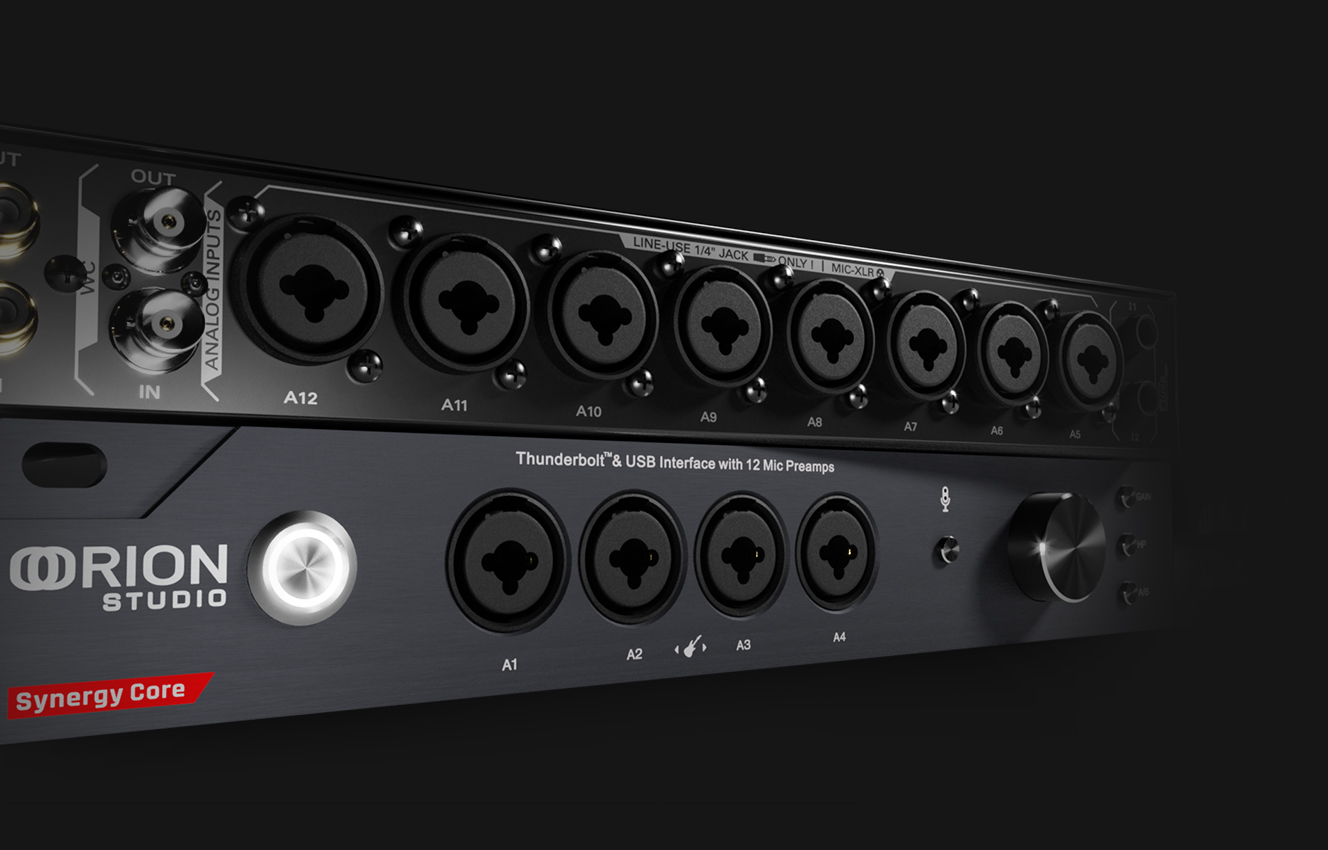 MORE THAN YOU EXPECT
12 Discrete Preamps
The outcome of a long, hard look into iconic microphone preamp circuitry, our discrete transistor pres honor the finest audio engineering practices while sounding absolutely exceptional. They also bring out the best in our Edge & Verge modeling condenser microphones, for vocal and instrument recording that truly keeps up with the times.
HEAR THE TRUTH
Go Direct
All Orion Studio Synergy Core analog inputs have the Direct-In feature to let you bypass preamp controls and record line-in signals directly into the converters. Get ready to hear the truth!
COMPREHENSIVE I/O
Immense Analog & Digital Flexibility
There's no task too big or too small for the Orion Studio Synergy Core. Record high-impedance instruments, such as the electric guitar, through four Hi-Z inputs and reamp DI tracks through the special purpose ReAmp outputs. Take advantage of all 16 line outputs (on DB25 connectors). Handle digital audio via S/PDIF and ADAT. Freely route all incoming and outgoing audio from an intuitive software Routing Matrix. Then hear the result from two pairs of headphones or studio monitors – simultaneously, if you need to.
TOTAL CONTROL
Any Audio Anywhere
The Software Control Panel is the "mediator" between the Orion Studio Synergy Core and your DAW. Handle gain adjustments, signal routing, effects processing, mixing and metering from a single window. Route the resulting audio into your DAW for recording in formats of your choice, such as multi-track, stem, and two-channel stereo. Gone DAW-less? Route any audio to any output and take it to the recording medium of your choice.
• IMMEDIATE ACCESS TO ANY PARAMETER
• COLOR-CODED ROUTING MATRIX WITH USER LABELS AND UNDO/REDO FUNCTIONS
• FOUR 32-CHANNEL, LOW-LATENCY SOFTWARE MIXERS
• SAVE AND LOAD CUSTOM PRESETS
• SINGLE-WINDOW WORKFLOW
BEST-IN-CLASS AD/DA
130 DB Dynamic Range
With an array of 12 audiophile-grade DACs, capable of up to 192kHz sample rates and 130dB dynamic range conversion* each, Orion Studio Synergy Core is an AD/DA powerhouse! Capture your voice, instruments or mixing desk outputs exactly as they sound, with immaculate precision that's as flawless as it's unforgiving.
* Measured at the monitor outputs.
ACCUSONIC 3D MODELING
Mic Modeling Ready
The Orion Studio Synergy Core's Accusonic 3D modeling engine lets you transform the Antelope Audio Edge and Verge modeling microphones into expensive-sounding vintage replicas. Shape the final sound with complete control over proximity effect and change polar patterns during or after recording. Choose from a collection of classic and rare microphones as you monitor and record live, bringing out the musician's finest performance.
*Available with Antelope Audio Edge & Verge modeling microphones
INDUSTRY-LEADING CLOCKING
64-bit Acoustically Focused Clocking
The pioneer of atomic clocking in pro audio, Antelope Audio incorporates 20+ years of expertise in its audio interfaces. Our proprietary 64-bit Acoustically Focused Clocking jitter management algorithm helps deliver the kind of artifact-free audio once accessible only to the most prestigious studios. Furthermore, with the Word Clock outputs, you can distribute this highly stable clock signal across the rest of your digital gear to have everything running in smooth sync!
Increased width, separation, and detail in musical performances
Very low frequency drift due to temperature and other parameter changes
Taking advantage of high-speed Thunderbolt™, the afx2dawplug-in lets you use Synergy Core effects inside most popular DAWs, providing native workflow while keeping all the processing inside the interface.
afx2daw is available as a separate purchase from our software store, for macOS and Windows.
HAND-BUILT IN EUROPE
Sturdy and Sleek
Housed in a machined aluminum chassis, each unit is hand-built in our European facility to strict standards, component choices and quality control. This kind of attention to detail is typically reserved only for boutique-class products.
Orion Studio Synergy Core
THUNDERBOLT 3 & USB INTERFACE WITH 12 DISCRETE PREAMPS AND SYNERGY CORE FX